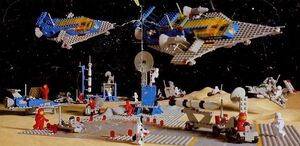 Welcome to the LEGO Classic Space Wiki!
Edit
The LEGO Classic Space is about classic LEGO space sets and all the sub-themes that were in the main theme. Classic LEGO Space began in 1978 and ended at around 1998. It had many subthemes, such as M-Tron, Blacktron and Insectoids. Feel free to add and share your knowledge of classic LEGO Space!
Latest activity
Edit
Ad blocker interference detected!
Wikia is a free-to-use site that makes money from advertising. We have a modified experience for viewers using ad blockers

Wikia is not accessible if you've made further modifications. Remove the custom ad blocker rule(s) and the page will load as expected.