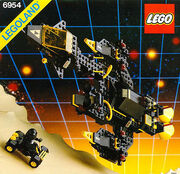 Renegade was the main
Blacktron
ship that was released in 1987. The set number was 6954, had 302 pieces in it and came with 2 Blacktron spacemen. It had a compartment that opened up to reveal a small buggy inside. It was only released in the USA. The fact that parts of this set were detachable and recombined set a benchmark for future space sets. The price was $29.99 (USD).
Ad blocker interference detected!
Wikia is a free-to-use site that makes money from advertising. We have a modified experience for viewers using ad blockers

Wikia is not accessible if you've made further modifications. Remove the custom ad blocker rule(s) and the page will load as expected.