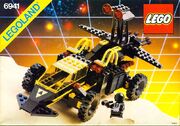 Battrax was a Blacktron vehicle released in 1987. It came with one Blacktron spaceman and, like other Blacktron vehicles, could be detached and recombined into many different things, depending on what the builder wanted. It had a spacious cockpit and medium-sized off-road tyres for crossing bumpy and uneven surfaces. It had 276 pieces.
Ad blocker interference detected!
Wikia is a free-to-use site that makes money from advertising. We have a modified experience for viewers using ad blockers

Wikia is not accessible if you've made further modifications. Remove the custom ad blocker rule(s) and the page will load as expected.