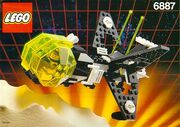 Allied avenger (also known as Blacktron Octopod in the UK) was a small Blacktron spaceship released in 1991. It had a black and white colour scheme instead of the traditional black and yellow due to the set being from Blacktron: Future Generation. It came with 1 Blacktron spaceman and it had a detachable front which could be reconnected to other spaceships from the same series. It had 98 pieces.
Ad blocker interference detected!
Wikia is a free-to-use site that makes money from advertising. We have a modified experience for viewers using ad blockers

Wikia is not accessible if you've made further modifications. Remove the custom ad blocker rule(s) and the page will load as expected.